by Nebula Haze
Intro: Transplanting Cannabis for Faster Growth
Why Should I Transplant My Cannabis Plants?
There are advantages to transplanting your marijuana, and this transplant guide and tutorial will teach you when and how to transplant your pot plants perfectly every time. But why should growers transplant their weed plants in the first place? Why not just plant them in their final container from the beginning? The reason is that a proper transplanting regimen actually makes your plants grow faster in the vegetative stage!
Transplanting Young Cannabis Plants At The Right Time Makes Them Grow Faster!
If you start your cannabis plants in a relatively small container they will grow faster than if you planted your seedlings or clones in a big container. This is because it's easier for a small cannabis plant roots to get the right mixture of air and water when they're not waterlogged in a big container.
Small Cannabis Plants Grow Faster in Small Containers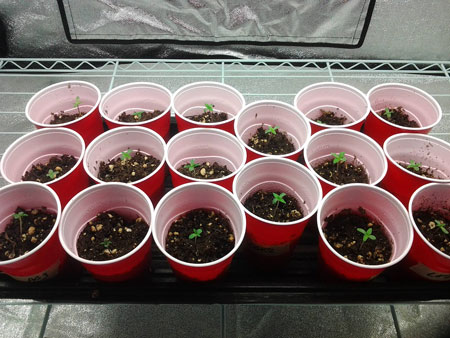 But if you do start small, you need to transfer your plants to bigger containers as they grow to ensure the roots have plenty of room to expand. When roots don't have enough room, they'll eventually form a "wall" around the edges of the container. This can cause an array of strange root problems.
If left in a container too long, the cannabis plant will actually become "root-bound." Think of it as if the roots are choking themselves.The plant roots are unable to effectively get the right ratio of oxygen, water and nutrients, and unless the plant is transplanted, the problem continues to get worse as the roots wrap tighter and tighter. Some growers will even use too-small containers to constrict their cannabis plants on purpose and keep them from getting bigger! So when it comes to transplanting cannabis, you want to make sure you transplant at the right time so your plant roots never run out of room. You'll actually be hurting their growth if you wait too long to transplant!
A root-bound cannabis plant – transplant your plants before it comes to this!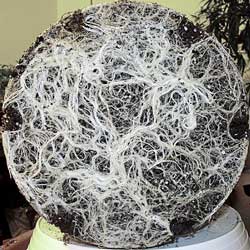 Root-bound cannabis plants grow very slowly and may even stop growing altogether. In addition to proper transplantation, you can prevent cannabis from getting rootbound by growing plants in smart pots (fabric pots) or air pots since they let air in from the sides. This automatically "prunes" the roots around the edges so they can't form a wall. Plants don't get rootbound, and tend to grow faster overall in containers like this compared to regular containers, but they need to watered about twice as often as a similarly sized regular pot since the growing medium is constantly being dried from the sides.
Smart Pots (Fabric Pots) & Air Pots Prevent Cannabis From Becoming Root-Bound
They also make it much harder to overwater your plants. The main drawback is they need to be watered much more often than a regular pot. (learn more about them here)
It is really nice that cannabis plants just plain grow faster in pots like smart pots and air pot. I personally recommend them if you can get a bigger size so you don't have to water as often. Besides solo cups, fabric pots are the only type of container I use for growing cannabis in soil or coco coir! But I digress…
When a marijuana plant is root-bound, it may display a host of seemingly random symptoms such as drooping and nutrient deficiencies, but usually the main symptom is slow growth.
Root-Bound Cannabis Plant in Solo Cup
Drooping, strange leaf symptoms, yellowing and other cannabis nutrient deficiencies can be caused by a too-small container, like the plant pictured below.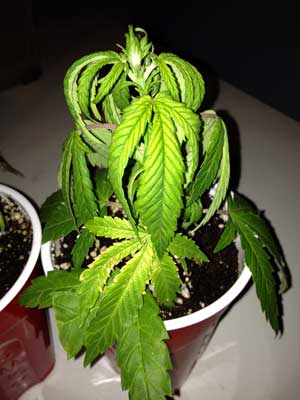 The roots are unable to get the right mixture of air, water and nutrients in a too-small container because the roots are wrapped around the edges. The best (and really only) way to fix up a cannabis plant that has become rootbound is to transplant it to a new, bigger container.
Remember, it is okay to plant your young cannabis in a large container right from the beginning if you want to avoid transplanting your marijuana altogether; just know that they may grow a bit slower for the first few weeks compared to if you started them in something small like a solo cup. If you do want to achieve faster growth rates with transplanting, this tutorial gives you a good general guide to make sure you transplant at just the right time, so your plants never get stressed out, and grow as fast as possible.
There's nothing wrong with planting seeds directly in a big container! The cannabis just grows a little bit slower at first.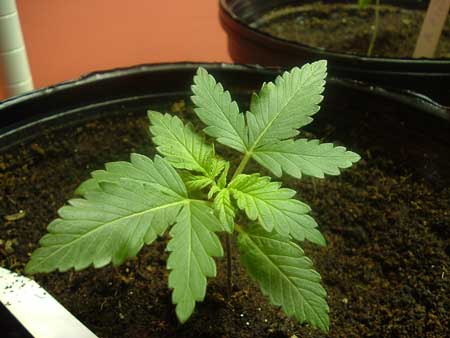 How Can I Tell If My Cannabis Plant Is Rootbound?
It can be hard to know exactly when to transplant your cannabis plants into a new container. Here are some scenarios where you might consider transplanting your plants:
Soil is drying out too quickly – When your container is drying out only a day or two after each watering it means your plant is drinking fast and needs more water than your current container can hold
Plant is getting root problems – A cannabis plant can start showing root problems when it's kept in a too-small container or if it's become root-bound. These root problems can cause the plant to become droopy, or show unexpected leaf symptoms or deficiencies (such as spots or yellowing leaves). Whenever literally everything else is right but you're still experiencing these problems, it may be a sign you need to transplant.
Plant has grown a lot or been in the same container for months. If you're keeping a mother plant for months, or if a plant has doubled in size in the same container, those are signs you may need to transplant to prevent your plant from getting rootbound.
Plant is tipping over from its own weight. When your cannabis plant is much wider and taller than its container, it's easy to tip over and therefore should be transplanted to a bigger pot that can hold it steady.
Plant is just plain too big for container (pics below) – There are some pictures below to give you an idea of what a plant looks like that needs to be transplanted. Some plants are just plain too big for the containers they are in.
Now let me give you a few real-life examples you can use to refer to. The following transplanting pictures should help give you an idea of exactly when to transplant your cannabis plants!
These marijuana plants are ready to be transplanted
This cannabis seedling is ready to transplant – you can transplant a cannabis plant from a solo cup once its leaves reach the edges. Don't wait much longer than this for a seedling in a solo cup!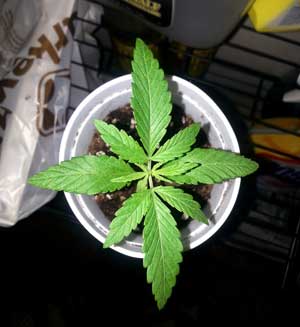 This next cannabis seedling is huge for a solo cup – it should have been transplanted weeks ago! The strange curling symptoms are a sign that the roots aren't happy. Once this plant was transplanted it started growing perfectly again.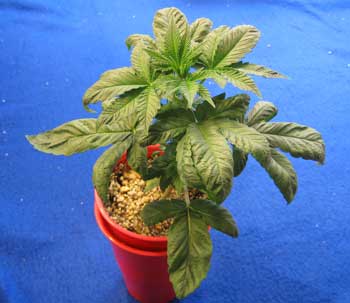 Sometimes a rootbound cannabis plant shows strange symptoms that almost look like nutrient deficiencies and/or overwatering, when the real problem is it just needs a bigger container!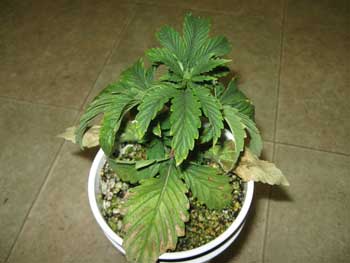 This next marijuana plant is also way too big for its solo cup. Although it still looks relatively healthy, notice the yellowing bottom leaves with spots and bluish color. If this plant isn't transplanted to a bigger container, those leaf symptoms will continue moving up the plant and start causing problems. Additionally, most likely this plant would already be much bigger if its roots weren't being constrained by the solo cup.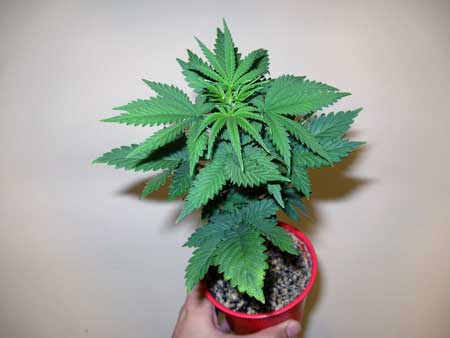 These marijuana plants aren't showing symptoms yet, but they're getting too big for their pots and should be transplanted soon, especially before they start flowering!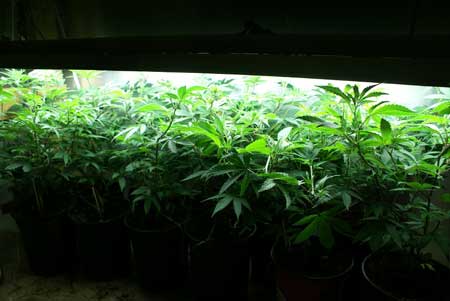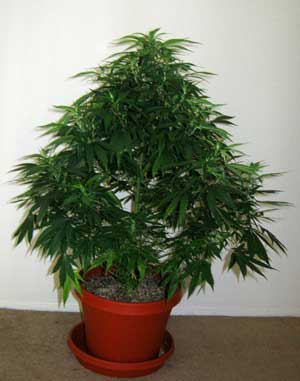 These cannabis plants are way too big for their containers and they're starting to show strange leaf symptoms, drooping and curling because roots aren't getting what they need
When a cannabis plant is much wider than its pot, it should be moved to a bigger container even if it's not showing signs of being root-bound. Not only will the plant roots love the extra space, your plant won't be so easy to tip over!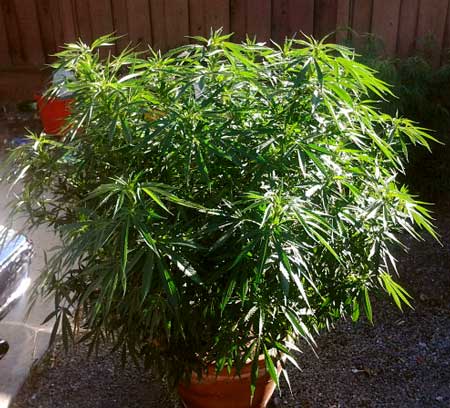 This cannabis plant was not transplanted before it started flowering. Although it was healthy its whole life, in the middle of the flowering stage it started drooping and showing these symptoms, because the plant was rootbound. Although it's generally not recommended to transplant a marijuana plant in the flowering stage, that's what was needed to fix up this plant and get to harvest!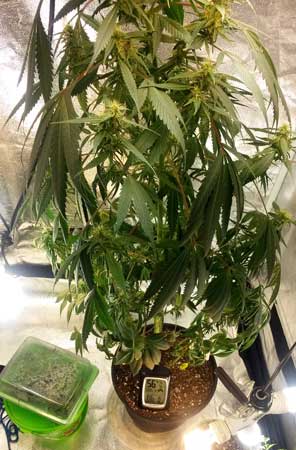 Seed to Final Container: When to Transplant
1.) Start seeds or clones in a seedling plug/cube or germination station and wait until you start seeing roots come out the bottom (or skip this step and plant seeds directly in a solo cup).
This grower has waited too long before transplanting to bigger container
(it's good to transfer once you start seeing roots)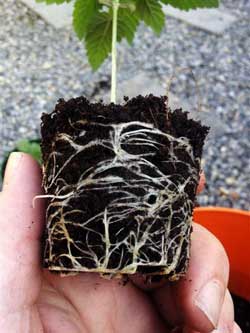 2.) Place young plants in a solo cup with holes in the bottom to allow water to drain freely.
Make sure to cut holes in the bottom of the solo cup first, so water can drain out the bottom easily!
​
Just dig a small hole and stick the starter cubes directly into the new growing medium.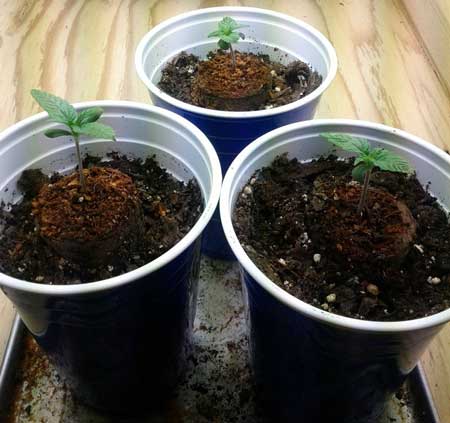 Allow them to grow a few sets of leaves, until the leaves reach the edges, like this…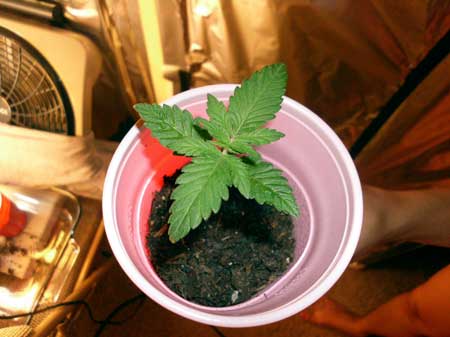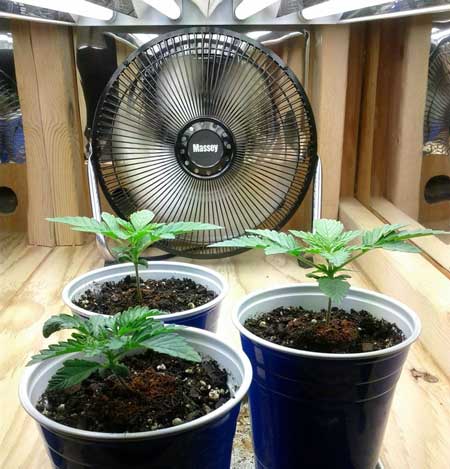 Once the leaves have reached the edges of the solo cup, it's time to transfer to a bigger container to prevent your seedlings from getting rootbound.
3.) Transfer plants to a 1, 2 or 3 gallon pot
Instead of pulling the whole plant out of the container, it's often easier to just cut away the solo cup when you plan on transplanting. This is one of the advantages of starting in disposable cups – it makes transplanting easy and stress-free.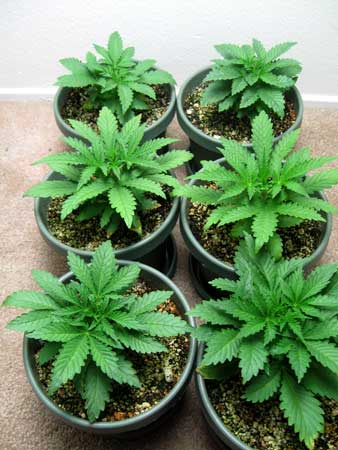 4.) Transfer again when plants double in height
Plants are ready to transfer again when they have about doubled in height.
They should look something like this…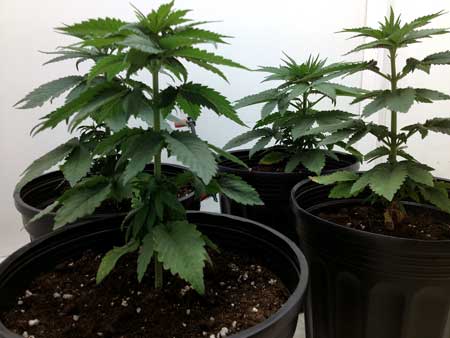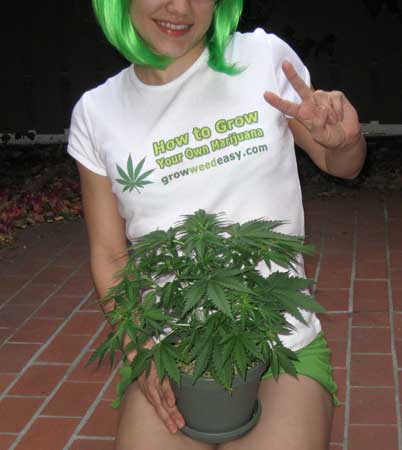 If you're growing big plants and your cannabis plants double in size again, you may need to transfer one more time!
5.) Transfer cannabis plants into their final container! That's it. You're done with transplanting your weed plants!
Now you just need to worry about taking care of your plants until you're ready to start flowering/budding. Remember plants will usually double (or even triple) in size from when you first initiate the flowering stage.
How do I get my cannabis plants to start flowering?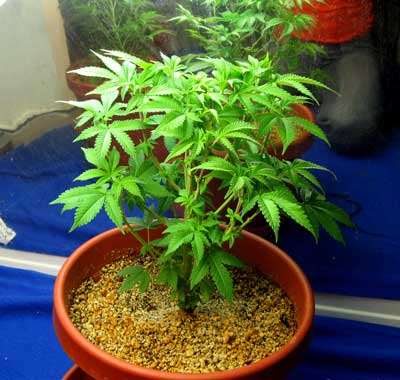 Note: You can skip some of the steps in the cannabis transplant guide above. Just make sure you're careful not to overwater small plants in too-big containers. Once plants start growing vigorously, you don't need to worry as much about overwatering.
Tips For Easy & Stress-Free Transplanting
Water your cannabis plants 1-2 days before transplanting. This will help the growing medium stay together (since it's moist), but still slide out easily (since it's not soaking wet).
Before you get started, fill your new pot with potting mix. Don't fill the pot to the top, instead leave about 2 extra inches (5 cm). That way you can easily water the plant without all the water running off the sides.
Water this new container of potting mix before you begin the transplant so it's nice and moist. If you don't water the new soil first, it can have a hard time absorbing water after the transplant, and your roots won't like that!
Since you will soon be adding a new plant, you want to dig out a hole in the middle that's about the size of your old container.
Take your plant, and carefully slide a butter knife inside the container all around the edges to help separate the rootball from the sides of the pot. Avoid grabbing the plant directly by the stem. Try to grab the whole top with a flat hand, and turn the container upside down so you can gently pat the rootball out and catch it with your flat hand. You may have to gently pull the plant out of the container, but go slowly and be gentle!
Plant the rootball directly into the new container, placing it in the hole you dug out earlier. You may need to add some extra soil to ensure a nice flat topsoil.
Gently pat down around the roots, to help press everything together slightly, then water your plant immediately. If you do it right, it won't stress your plants at all!
Minimize Transplant Shock
The process of transplanting can shock your cannabis plants, especially if you wait too long to transplant.
Learn how to avoid cannabis transplant shock!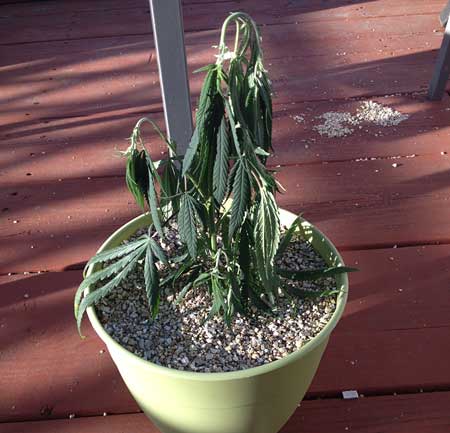 You can help avoid causing your cannabis plants stress during transplant by following these principles:
Transplant your cannabis plants after their roots have begun to fill container (to help hold all the growing medium together) but before the roots have started wrapping around the edges (plants have become rootbound).​
Water your cannabis plants 1-2 days before transplanting. This will help the growing medium stay together (since it's moist), but still slide out easily (since it's not soaking wet).
It's better to transfer too early than too late!
If the roots haven't grown all around the sides of the root ball (plant isn't rootbound), avoid disturbing the roots if possible. There's no need to shake out dirt, just carefully move entire root ball directly into the next pot.
Make sure your plants are in their final container at least 1-2 weeks before you switch them over to the flowering stage, and avoid transplanting plants during the flowering/budding stage if you can since the stress may affect your final yields.
If your cannabis plants seem like they are suffering from transplant shock (leaf symptoms, drooping, slowed growth), it can be helpful to use a seaweed kelp extract (often available as a liquid fertilizer) to help your cannabis recover more quickly.
If transplanting seems scary, it's okay to plant your seed or clone in its final destination right at the beginning, just be wary of overwatering until the plant is growing vigorously and has a few sets of leaves. You can increase the amount of oxygen available to your plants by adding extra perlite to loosen the soil and allow water to drain through more easily
Water your cannabis properly after they've been transplanted for the best results!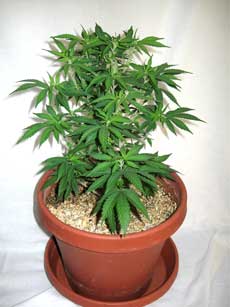 If you follow all these steps, you may notice that your plant doesn't show any signs of stress at all!
What Size Should my Final Container Be?
This depends on what size plant you plan to grow, since bigger plants require bigger containers, while smaller plants grow fastest in a relatively small container. For the best results, you need to match the size of your plant with the size of your container.
A general guide is to have up to 2 gallons per 12″ of height. This isn't perfect, since plants often grow differently, and some plants are short and wide instead of tall, but this is a good rule of thumb.
So if your final (desired) plant size is…
12″ ~ 2-3 gallon container
24″ ~ 3-5 gallon container
36″ ~ 5-7 gallon container
48″ ~ 6-10 gallon container
60″ ~ 8-10+ gallon container
Go Bigger If You Need to Spend Time Away From Your Cannabis
However, if you plan on being away from your plant for more than a day or two during the grow, it can't hurt to go up a size or two. The bigger the container, the less often you need to water. So even if you get slightly slower growth in a too-big container, you will definitely be able to spend more time away from your plants without having to water them!
FAQs
Should I water cannabis before transplanting?
First transplant of a cannabis plant To transplant: Wash your hands and/or wear gloves to prevent contamination of the delicate roots, and keep the surroundings as sanitary as possible. Give the plant a light sprinkling of water to help minimize shock; don't drench it, as the soil will be difficult to work with
How big should seedlings be before transplanting?
about 2-3 inches high
What does transplant shock look like?
Symptom. Leaf scorch is a common symptom of transplant shock. Leaf scorch first appears as a yellowing or bronzing of tissue between the veins or along the margins of leaves of deciduous plants (those that lose their leaves in winter). Later, the discolored tissue dries out and turns brown.
Does sugar water help transplant shock?
Don't Use Sugar Water for Transplant Shock
Or, the roots were damaged during transplanting and they cannot take up sufficient water and nutrients. Sugar water does not do anything to help plants with transplant shock, and it can make it worse. Often, plants recover on their own.
Is it better to transplant at night?
Choose the Right Time. It's best to dig up and transplant garden plants when it is overcast or during the cooler evening hours. This will give the plant the entire night to get adjusted in its new spot before being exposed to the heat and bright light of the day.
How can you tell the seedlings are ready for transplanting?
When the seedlings have developed their second set of true leaves, it's time to transplant or thin them. If you don't need many plants, you can thin them in place: just pinch or snip off the excess seedlings, leaving the remaining ones spaced about 2 inches apart.
What happens if you don't Thin seedlings?
When left un-thinned, seedlings that are in tight quarters will compete with one another for nutrients, water, air, and root space. Those are not things you want to deprive your seedlings of! In addition to concerns about competition, crowding seedlings also increases the risk for disease.
Does Epsom salt help transplant shock?
But transplant shock can be remedied by applying Epsom salt to the soil where the plant is being replaced. The Epsom salt triggers chlorophyll production which allows for better nutrient absorption which promotes healing.
Is baking soda good for plants?
Baking soda on plants causes no apparent harm and may help prevent the bloom of fungal spores in some cases. It is most effective on fruits and vegetables off the vine or stem, but regular applications during the spring can minimize diseases such as powdery mildew and other foliar diseases.
How much should you water after transplant?
1-2 weeks after planting, water daily. 3-12 weeks after planting, water every 2 to 3 days. After 12 weeks, water weekly until roots are established.
Is it better to water plants in the morning or at night?
Morning watering is actually preferable to evening watering as the plant has time to dry before the sun goes down. At night, water tends to rest in the soil, around the roots, and on the foliage, which encourages rot, fungal growth, and insects.
Do plants recover from transplant shock?
Yes, plants can survive transplant shock with proper care. Be patient, give some water, and time to them. They will recover.
When should we not water the plants?
We should not water the plants at noonday.
Should I water my plants everyday?
In reality, you don't need to water your plants and trees every day. Watering plants daily can lead to overwatering, which can waterlog roots and limit the amount of oxygen and nutrients plants are able to absorb. Using mulch and watering once or twice weekly is best general practice for most plants.
How & When to Transplant Cannabis Plants | Leafly
How and when to transplant cannabis plants What is transplanting cannabis? (Bettsphoto/iStock) Transplanting is the process of "re-homing" a cannabis plant, or moving a plant into a bigger pot with more soil as it grows bigger. Growers typically start off the cannabis growing process by planting many seeds in small pots because they don't know if all of them will sprout—or germinate—and they don't know if all of them will be female. Only female cannabis plants produce buds, so if you start growing from regular seeds, you will have to sex them out and discard the males. Why is transplanting marijuana plants important? Transplanting gives a marijuana plant's root system more space to spread out, allowing the plant to grow healthy and strong and to flourish. When roots become cramped and can't spread out they can get tangled and become "rootbound"—this will effective choke the plant, leading to a stunted, sickly plant, and can even kill it. A healthy root system will lead to a healthy weed plant.   A plant's container will determine how much the roots can stretch out, and therefore how big your plant will get. A container that's too small will stunt it.   You don't want to plant a seed in a giant pot because you could potentially waste soil if the seed doesn't make it. Also, if growing weed outdoors, it's hard to plan out a garden and where to put your seeds in the ground if some seeds don't make it. Most weed growers start seeds in small 4-inch or 1-gallon pots when germinating. For the seeds that do make it, they will need bigger homes after several weeks of growing and will need to be transplanted either into a bigger pot or directly into the ground. When planting into the ground, make sure not to crowd your plants so their roots don't run into each other. The symptoms of a rootbound plant include: Flimsy new growthStunted flower productionStem discoloration (reddening)Nutrient sensitivityNutrient deficiency A rootbound plant may also appear under-watered. If a plant requires watering more than once a day, it may need to get transplanted. When to transplant marijuana  Check out Johanna's full video series on how to grow weed on Leafly's YouTube. Most marijuana plants go through 1-2 transplants during their life but could have more. As an example, transplanting can happen from:  First container (1-gallon) to second container (2-gallon): 4-8 weeks after seed germinationSecond container (2-gallon) to third container (5-gallon): transplant 8-12 weeks later, or 2 weeks before flowering Some growers may only transplant once: using the example above, from a 1-gallon to a 5-gallon container, skipping the 2-gallon. And depending on how big you want your weed plants to get, you may transplant into bigger pots than what's listed above. The same goes for transplanting outside, in the ground—you can go straight from the first pot into the ground, but it depends on when you transplant and your local climate and weather. Here are some indicators that your cannabis is ready for a new container. Number of leaves Young plants sowed in small containers are usually ready to be transplanted after they've sprouted 4-5 sets of leaves, but keep in mind this may vary from strain to strain. Root development Check the drainage holes at the bottom of the container—a plant should have a healthy and visibly white root system. If roots are growing…
Transplanting Cannabis: Complete Guide
Transplanting Cannabis: Complete Guide | Homegrown Cannabis Co. Here You Will Find: Why is transplanting cannabis important? How often do you need to transplant marijuana plants? How often do you need to transplant marijuana plants? What do you need to prepare before transplanting pot plants? Why not plant seedlings straight into their final home? How to transplant cannabis plants How to avoid cannabis transplant shock? Is there anything you should do or avoid after transplanting? How do you feed your cannabis plant after transplanting? What about autoflowering plants: can you transplant them? Key takeaways about transplanting pot Transplanting cannabis is a vital skill. You won't be able to truly grow cannabis until you learn to transplant properly.  If you don't transplant cannabis when it needs to be moved, you could end up with rootbound plants and stunted growth. Pot size is important when it comes to yield, you want your plants to finish in nice, big pots, but it's not always sensible to start them this way.  Transplanting cannabis successfully is all about observation, practice and timing.  You need to recognise when your plants are ready to be transplanted, and you need to know how to transplant without stressing or killing them. For most photoperiod grows, plan to transplant cannabis up to and around three times. We're going to look at the full cycle of the plant, when to transplant weed seedlings and transplanting cannabis plants pre-flip, so they can enjoy flowering in their final home.  Why is transplanting cannabis important? As plants grow above the soil line, the root ball expands below it.  It's important the plant has enough room to grow in both these dimensions. Important both for the quality AND the quantity of your final yield. While it's true that pot size determines how big your plants can grow, transplanting marijuana directly from a tiny container to a large one can be detrimental. We'll talk about this more later on. The main advantage of transplanting cannabis is that it helps you perfect the watering cycle, allowing the rootball to expand at a manageable rate. If you don't transplant your cannabis when it needs to be moved, the roots might outgrow the pot – the plant can become root bound. Root bound cannabis plants struggle to absorb nutrients, oxygen, and water, often leading to sickness and death. Transplanting marijuana plants too soon will have the negative effect of your root ball falling apart. Growing cannabis is all about providing the most comfort for your plants, allowing them to thrive. One of the best ways to do this is to learn how to transplant cannabis with confidence. How often do you need to transplant marijuana plants? If you've germinated your cannabis seeds outside of the soil, your first experience of transplanting cannabis plants will be planting them. Okay, so it's not a major transplant, but you're still 'transplanting' from the paper towel to the small pot or solo cup. The first big transplanting decision is when to transplant cannabis seedlings to their first decent-sized plant pot. This will either be an intermediate pot, or their final pot.  Remember: transplanting pot is not something you can predetermine. You need to observe your plants, let them tell you when they're ready to be moved. Beginners should think about transplanting weed plants into an intermediate pot. This will help master the wet to dry watering cycle – the best way to water your plants! Transplanting cannabis seedlings straight into a final container is best left to experienced growers (or those growing autoflowers). Unless your final pot is three gallons or less. When to transplant your marijuana plant? You should only really transplant weed plants when: Planting germinated seeds into their first pot.Transplanting pot seedlings into intermediate containers.Transplanting into a final grow pot ready for flowering. The key determining factor in…

How To Grow Cannabis Part #3: Transplanting + Announcing …
How And When To Transplant Your Cannabis Plants – RQS Blog
How And When To Transplant Your Cannabis Plants – RQS Blog Back to Grow: Up to 50% Off Seeds + More – Buy Now Knowing how and when to transplant your cannabis babies can literally tip the scales in your direction when harvest time comes around. Learn everything you need to know about why, when, and how to transplant your cannabis. How to transplant your cannabis: tips and advice. Contents: Why is transplanting your cannabis important? How often do you need to transplant? When to transplant your cannabis How much space does cannabis need? Why not plant into the biggest pot? What type of pots should I use? How to transplant cannabis Size of pots indoors and outdoors What about transplanting autoflowers? Understanding autoflowering cannabis plants Can you transplant autoflowering cannabis seedlings? How does transplanting affect autoflowering cannabis plants? When is the best time to transplant autoflowering cannabis plants? How to transplant autoflowering cannabis plants Plan ahead to avoid transplanting Healthy roots mean strong plants and fat, resin-jewelled buds on your cannabis. You want everything big—the bigger the better! Whether you've decided to grow in a SOG, a ScrOG, or are keeping things super-simple, no matter what, you should transplant your cannabis into larger pots at least twice. There are, of course, some exceptions to this rule—which we will clear up later down the line—but first, let's pose an all-important question. WHY IS TRANSPLANTING YOUR CANNABIS IMPORTANT? Unlike with hydroponics, growing in a solid medium like soil or coco makes transplanting into bigger pots necessary as your plants grow. Why is that? As the roots expand into the substrate and seek out nutrients, their network will grow to encompass as much space as possible. When the roots have completely filled out the volume of the pot, running circles around the inside perimeter of the container, growers refer to these plants as "root bound". Vegetative growth will slow down, ultimately limiting the potential of your yields as well. By transplanting to bigger pots early on, we can prevent this from happening. Transplanting ensures the roots always have space to grow freely and vigorously. HOW OFTEN DO YOU NEED TO TRANSPLANT? Contrary to what we said in the beginning of this article, you don't technically need to transplant; but you should—especially if you want to max out yield. Plants grow faster in smaller pots but are more susceptible to overwatering and overfeeding. When you start in small seedling pots or solo cups, the risk of fungus and other growing problems is largely mitigated, but new problems arise once your soon-to-be vegetative plants want to establish a strong root system. A good way to go about transplanting is to keep your babies in seedling containers until they've each developed at least three nodes. At this point, you can transplant your specimens into larger pots until they double in size. Eventually, you'll want to move your plants to their final, largest containers where they can truly flourish. Typically, you will transplant a (photoperiod) plant 2–3 times. Re-potting more frequently isn't recommended as transplanting causes significant stress. WHEN TO TRANSPLANT YOUR CANNABIS Let's run over a list of visual indicators that can help you determine if your plants need to be moved to larger pots! Size of the plant: If a plant has visibly outgrown the pot, it's time to transplant. Look to the number of nodes as a guideline. Speed of growth: If you see your plant's growth accelerating in a too-small pot, transplant before growth becomes stunted. As a hint, the more fan leaves your plants have, the more they can photosynthesise, and the bigger they will become. Root development: If plants are rootbound or roots are coming out of the pot, they need to be transplanted. Problems with watering: Your growing plants are thirsty! If the pot dries out too quickly, it's likely your ladies need a larger vessel. Growing problems: If you observe slow growth or a sickly appearance from plants in undersized pots, it could be due to the size of their container. HOW MUCH SPACE DOES CANNABIS NEED? In nature, the spacing of plants affects how they grow. When cannabis is grown for…
When Do I Transplant Cannabis Plants? – Grow Weed Easy
How Do I Transplant Marijuana for Faster Growth? | Grow Weed Easyby Nebula HazeIntro: Transplanting Cannabis for Faster GrowthWhen is Plant Rootbound?Seed to Final Container: When to Transplant GuideTransplanting TipsWhy Should I Transplant My Cannabis Plants?There are advantages to transplanting your marijuana, and this transplant guide and tutorial will teach you when and how to transplant your pot plants perfectly every time. But why should growers transplant their weed plants in the first place? Why not just plant them in their final container from the beginning? The reason is that a proper transplanting regimen actually makes your plants grow faster in the vegetative stage!Transplanting Young Cannabis Plants At The Right Time Makes Them Grow Faster!If you start your cannabis plants in a relatively small container they will grow faster than if you planted your seedlings or clones in a big container. This is because it's easier for a small cannabis plant roots to get the right mixture of air and water when they're not waterlogged in a big container.Small Cannabis Plants Grow Faster in Small ContainersBut if you do start small, you need to transfer your plants to bigger containers as they grow to ensure the roots have plenty of room to expand. When roots don't have enough room, they'll eventually form a "wall" around the edges of the container. This can cause an array of strange root problems.If left in a container too long, the cannabis plant will actually become "root-bound." Think of it as if the roots are choking themselves.The plant roots are unable to effectively get the right ratio of oxygen, water and nutrients, and unless the plant is transplanted, the problem continues to get worse as the roots wrap tighter and tighter. Some growers will even use too-small containers to constrict their cannabis plants on purpose and keep them from getting bigger! So when it comes to transplanting cannabis, you want to make sure you transplant at the right time so your plant roots never run out of room. You'll actually be hurting their growth if you wait too long to transplant!A root-bound cannabis plant – transplant your plants before it comes to this! Root-bound cannabis plants grow very slowly and may even stop growing altogether. In addition to proper transplantation, you can prevent cannabis from getting rootbound by growing plants in smart pots (fabric pots) or air pots since they let air in from the sides. This automatically "prunes" the roots around the edges so they can't form a wall. Plants don't get rootbound, and tend to grow faster overall in containers like this compared to regular containers, but they need to watered about twice as often as a similarly sized regular pot since the growing medium is constantly being dried from the sides.Smart Pots (Fabric Pots) & Air Pots Prevent Cannabis From Becoming Root-BoundThey also make it much harder to overwater your plants. The main drawback is they need to be watered much more often than a regular pot. (learn more about them here)It is really nice that cannabis plants just plain grow faster in pots like smart pots and air pot. I personally recommend them if you can get a bigger size so you don't have to water as often. Besides solo cups, fabric pots are the only type of container I use for growing cannabis in soil or coco coir! But I digress…When a marijuana plant is root-bound, it may display a host of seemingly random symptoms such as drooping and nutrient deficiencies, but usually the main symptom is slow growth.Root-Bound Cannabis Plant in Solo CupDrooping, strange leaf symptoms, yellowing and other cannabis nutrient deficiencies can be caused by a too-small container, like the plant pictured below.The roots are unable to get the right mixture of air, water and nutrients in a too-small container because the roots are wrapped around the edges. The best (and really only) way to fix up a cannabis plant that has become rootbound is to transplant it to a new, bigger container.Remember, it is okay to plant your young cannabis in a large container right from the beginning if you want to…
When to transplant cannabis and how to do it
When to transplant cannabis and how to do it Whether in an outdoor indoor cultivation, transplanting cannabis is a sensitive phase in the life of your plants, which need enough space to develop an extensive root system in order to reach their full potential. A plant with little room for its roots will never perform as well as another with a well-developed root ball! For this reason, it's a very important moment for the plant growth, and you must transplant your marijuana at the right time and into the right pots. Today we are going to take a closer look into this operation, which must be carried out with utmost care in order to minimize the stress caused to the plant. If you do it right, you will be able to make the most of the available space, save substrate and nutrients, reduce the risk of fungi, accelerate plant development, and obtain maximum yields… It's worth trying, don't you think? Let's do it! Healthy roots need some basic care Why transplant your cannabis? In nature, cannabis seeds germinate and rise directly from the ground after winter; these plants usually grow without any restrictions in regards to space for their roots, which can freely develop in all directions. This way, in addition to being able to better withstand the lack of irrigation, the plants grow and flower unrestricted, potentially reaching very big heights and yields with just some basic care. However, when growing in pots you are limiting the space available for their roots, which naturally affects the plant's overall development, both in the aerial part and the root system. Unsurprisingly, a plant cultivated in a small pot until harvest won't yield as much as another plant that has plenty of room to develop a healthy root system, since the link between the size of the pot and the size of the plant is quite clear; but, why not germinate the seeds directly in large containers? Why keep changing pots periodically? As we have already mentioned, if you do it right, you'll be able to enjoy a number of benefits, among them: You can save space, nutrients and substrate: when starting you cannabis grow, you don't need large pots or huge amounts of soil. A straightforward 1L (or even smaller) container is more than enough for the first stage of your plant's life, until it develops 3-4 sets of leaves. As you won't need so much substrate or nutrients as with larger pots, the savings are obvious. Also, during this first phase, you probably won't need much space or light, and certainly much less than during the vegetative and flowering phases, or if you start growing in a big pot and in a much larger cultivation area. When growing in smaller pots you'll save space, substrate and nutrients Growing speed: when cultivating cannabis in a relatively small pot, you need to water your plant more often than with larger pots. When the dry substrate/wet substrate cycle is repeated more often, it results in a phenomenon similar to hydroponic cultivation: the more you water a plant, the faster it grows. It's a matter of maximising this period until the transplant becomes necessary for the reasons we'll see later on. Lower risk of pathogenic fungi: imagine you sow marijuana in an 11L pot; if you moisten the whole substrate, it will be wet for several days, and given there are hardly any roots to absorb the moisture, it will take a long time to…
Why is transplanting cannabis important? by Kyle Kushman
Why is transplanting cannabis important? by Kyle Kushman Transplanting cannabis is a vital skill. You won't be able to truly grow cannabis until you learn to transplant properly.  If you don't transplant cannabis when it needs to be moved, you could end up with rootbound plants and stunted growth. Pot size is important when it comes to yield, you want your plants to finish in nice, big pots, but it's not always sensible to start them this way. Transplanting cannabis successfully is all about observation, practice and timing.  You need to recognize when your plants are ready to be transplanted, and you need to know how to transplant without stressing or killing them. For most photoperiod grows, plan to transplant cannabis up to and around three times. We're going to look at the full cycle of the plant, when to transplant weed seedlings and transplanting cannabis plants pre-flip, so they can enjoy flowering in their final home. Article originally published via our content partners at Homegrown Cannabis Co. Shop for Seeds Now As plants grow above the soil line, the root ball expands below it. It's important the plant has enough room to grow in both these dimensions. Important both for the quality AND the quantity of your final yield. While it's true that pot size determines how big your plants can grow, transplanting marijuana directly from a tiny container to a large one can be detrimental. We'll talk about this later on in our transplanting series. The main advantage of transplanting cannabis is that it helps you perfect the watering cycle, allowing the rootball to expand at a manageable rate. If you don't transplant your cannabis when it needs to be moved, the roots might outgrow the pot – the plant can become rootbound. Rootbound plants struggle to absorb nutrients, oxygen, and water, often leading to sickness and death. Transplanting marijuana plants too soon will have the negative effect of your root ball falling apart. Growing cannabis is all about providing the most comfort for your plants, allowing them to thrive. One of the best ways to do this is to learn how to transplant cannabis with confidence. How often do you need to transplant cannabis plants? If you've germinated your cannabis seeds outside of the soil, your first experience of transplanting cannabis plants will be planting them. Okay, so it's not a major transplant, but you're still 'transplanting' from the paper towel to the small pot or solo cup. The first big transplanting decision is when to transplant cannabis seedlings to their first decent-sized plant pot. This will either be an intermediate pot, or their final pot. Remember: transplanting pot is not something you can predetermine. You need to observe your plants, let them tell you when they're ready to be moved. Beginners should think about transplanting weed plants into an intermediate pot. This will help master the wet to dry watering cycle – the best way to water your plants! Transplanting cannabis seedlings straight into a final container is best left to experienced growers (or those growing autoflowers). Unless your final pot is three gallons or less. Shop seeds, grow supplies and more. When to transplant your cannabis plant? You should only really transplant weed plants when: Planting germinated seeds into their first pot. Transplanting pot seedlings into intermediate containers. Transplanting into a final grow pot ready for flowering. The key determining factor in transplanting cannabis is the size of the plant, and, by proxy, the root ball. You can transplant cannabis as much as needed during the seedling and vegetative stages, but each time you transplant weed, you risk cannabis transplant shock. This is why you need to know exactly how to transplant! We'll go into this in-depth later on, but…
How To Transplant Cannabis Plants: A Quick Guide
How To Transplant Cannabis Plants: A Quick Guide Growing your own cannabis garden is highly rewarding, both as a free source of weed and as a hobby. But like any other labor intensive engagement, growing cannabis comes with its fair share of unavoidable tasks, starting from the first-time seeds are planted to when leaves are harvested for consumption.  One such task is transplanting, which happens after seed germination and is very necessary for proper plant growth. When done wrong, it can destroy your whole cannabis garden in one day. When done right, it guarantees the yield you always dreamed of.  The guide below helps you understand the basics of how to transplant cannabis plants for maximum yields. What is transplanting? Transplanting is the process of moving newly sprouted seedlings or young plants from their original growth medium into another, as necessitated by increasing growth demands that the original growth medium can no longer fulfill. The process of transplanting involves digging up a sprouted seedling or young plant along with some of its current soil mix and moving them to a new already-dug hole in the new growth medium. Why do you need to transplant cannabis plants? Transplanting seems a bit unnecessary and tedious, but cannabis growers still do it because of the reasons below: To prevent plants from getting root bound. Plants get root bound when their roots outgrow their current growth medium, usually growing all around its edges instead. The problem with root bound plants is that they start to get stunted, start wilting, turn red at the stems and grow rather slowly, usually ending dead. To foster faster growth. Transplanting is a way to trigger further growth of cannabis plants. New growth mediums are always larger in size, providing more room for plant roots to expand and ably support necessary plant growth processes such as flowering.  It prevents root rot. Transplanting would be easy to skip, but skipping it exposes plant roots to the risk of root rot, which happens when seeds are planted directly in the final growing medium and they fail to expand, later absorbing all the moisture in the soil and rotting instead. When to transplant cannabis plants Transplanting cannabis plants isn't all about moving sprouted seedlings from one growth vessel to another. Factors such as timing are crucial and have to be considered to avoid any error. How you can tell cannabis plants are ready for transplanting Visible root growth When you see the plant's new healthy white roots reaching the edges of or passing through the bottom of their current growth vessel, the plant is ready for transplanting. That's because the next step after reaching the vessel's edges is getting root bound, which is dangerous. Rapid leaf growth When there's faster development of leaves, and you can see about 4 to 5 leaves on the sprouted seedling, consider it ready for transplanting. Strong plant stem It's time for transplanting if you touch the cannabis plant's stem and find it harder or sturdier than it was before. The vegetative phase When the plant is clearly in the vegetative phase, you need to prepare for transplanting so that it doesn't enter the flowering phase before it's moved to a bigger growth vessel. What stage of growth is transplanting most common in? The simple answer here is during the vegetative growth phase because, at the germination stage, the plants are tender and might suffer more transplant shock. Additionally, this is the stage where there is a sudden increase in growth speed and hence increased demand for bigger root space. What stage of growth is it safest in? Transplanting can be done right after germination and during the vegetative phase, but it's undoubtedly safer in the latter because the plant itself is more fit for the move and needs it for better growth. The basic process of transplanting a cannabis plant seems pretty easy but there's lots of room for error. The outlined process below is a good process you can follow for each form of transplanting. Prepare your new growth vessel by filling it with enough…
Transplanting marijuana plants
Transplanting marijuana plants Transplanting marijuana plants can be one of the trickiest parts of growing cannabis. It may seem overwhelming, but when properly researched it can be done with ease by just about anyone. Why transplant?Indoor or outdoor transplanting?When to transplantHow to transplantTransplanting tipsFAQ about transplanting marijuana Once your plants have established a stable root system, they are ready for a period of major foliage growth. So what makes transplanting cannabis so important? What would even happen if you didn't do it? In this article, we will answer those questions, and will dive into the following topics: Why transplant? If you don't transplant your plants in time they might get rootbound. Rootbound means that the roots have grown all the way around the edges and bottom of the container because it is nog big enough. Your plant will not grow anymore until you transplant it to a larger container. The following symptoms are signs that your plant is rootbound: Stunted GrowthStretchingSmaller and slower bud productionNeeds watering too oftenEasy to burn with low % nutrient solution mixturesWiltingRed stems Roots have wrapped around the edges and growing upwards. Classic signs of a rootbound plant. Image from 420mag The right time to transplant your cannabis plants is when they have an established, sturdy root system in place. This is the case when the roots grow out of the bottom of the pot. The plant is ready to focus its energy on vegetative growth now, so it needs to be moved to a larger container. Note: Marijuana plants need around 2 gallons of soil for each foot of growth. You will need to educate yourself about how to do this properly, since making even a small mistake during the process could have a devastating effect. You will also have to carefully choose where you are going to put your cannabis plants permanently to live out their adult lives. Transplanting cannabis plants at this stage is always necessary, regardless of how you sprouted your plants to begin with. They simply cannot thrive if they are grown in containers for their whole lives, so you cannot avoid the transplantation process. The best way to deal with this is through research and planning. So what could happen if you make a mistake while transplanting your cannabis plants? Your plants could go into shock, which might cause their leaves to turn yellow and then wither, finally dying and dropping off the plant altogether. In some more serious cases, the plant itself could actually die from the trauma. While risky, transplanting your plants will have an overwhelmingly positive effect (when done responsibly). It will help speed up the maturing process of the plant while simultaneously requiring even less hands-on care from you as the grower. In summary, it's well worth the risk and hassle in the end. Download my free Grow Bible for more troubleshooting tips. Grow with my Quick Start GuideDiscover secrets to Big YieldsAvoid common grow mistakes Indoor or outdoor transplanting? Before beginning the transplanting process, you will first need to make some decisions about your permanent grow site. The location is everything, as it will determine your cannabis plants' growing environment (and, therefore, their rate of success) as well as your own security. If you want more control over the environment in which your plants are growing, you may be interested in setting up a permanent grow site indoors. With this method, you can grow all your plants in larger separate containers of some sort (check these containers). Whether you prefer indoor or outdoor growing, you can buy high-quality seeds from my seed shop. Buy high-quality seeds We ship daily to all U.S. states for FREE!Our seeds are guaranteed to germinateGuaranteed DeliveryGet 24/7 Grow Support This can be a great way to ensure the health of your plants since you would control every aspect of their lives. On the other hand, growing your cannabis plants indoors will also require you to use a lot…