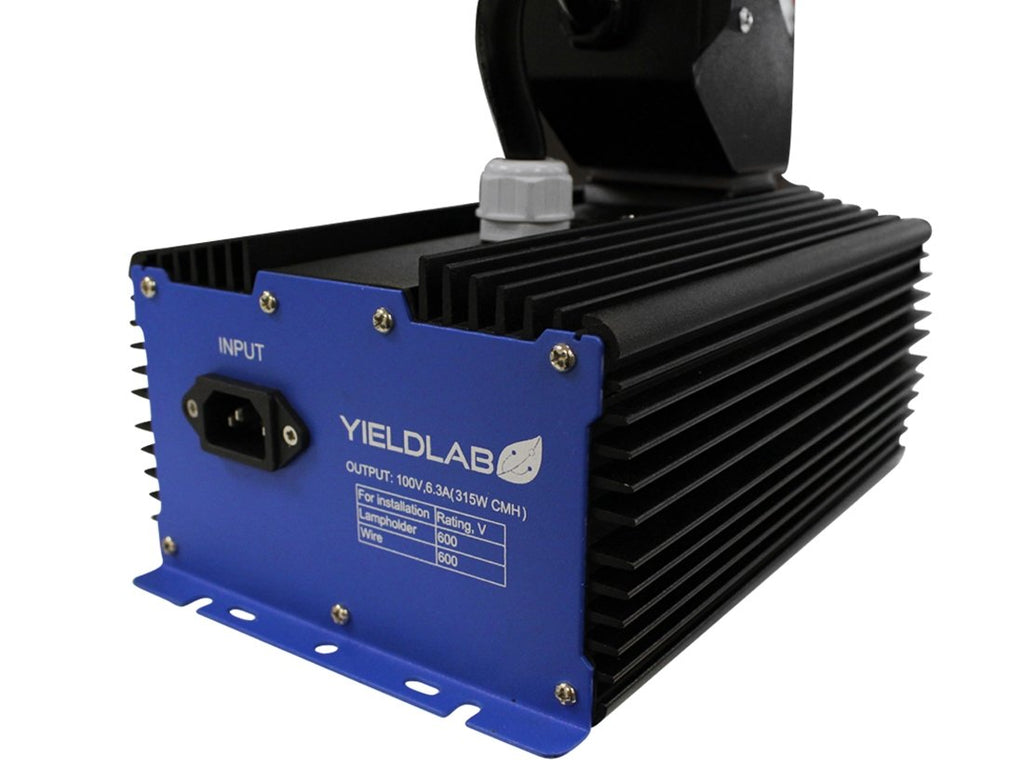 UNLOCK TOP SHELF QUALITY
Hellion Lighting Kits by Adjust-A-Wings deliver more PAR output than any other 600 – 750W DE-HPS, 630W DE-CMH or 315W SE-CMH. However, it's Adjust-A-Wings' unique capability of getting "up close and personal" that truly sets it apart from the pack, delivering unparalleled intensity and canopy penetration without causing heat stress.
Combining our DE-HPS and SE-CMH / DE-CMH systems in the same lighting plan, growers can create "deep spectral mixing" — combing the complementary spectrums of DE-HPS and CMH at high radiant intensity. This stimulates photosynthesis, production and crop quality on a whole new level!
Thanks to the double-parabolic reflector shape and patented Super Spreader (heat diffuser) Hellion lighting systems are able to be safely positioned much closer to the canopy, giving much deeper penetration and driving production throughout the plant. Other small "deep-dish" greenhouse-style reflectors require 90cm or more which exponentially decreases both incident and angular intensity. The Hellion is ideal for quality + production focused growers cultivating under standard-height ceilings.
Also, growers with high ceilings my benefit from growing in a multi-tier (multi-layer) arrangement which is not possible with other DE HID systems. Watch the video.
POWER and PERFORMANCE 
All the components (reflector, lamp, e-ballast and Super Spreader) have been designed from the ground up to work as a complete, unified lighting system. The result is an extremely efficient grow light with extended lamp life, lower power consumption, higher output and high spectral integrity across all key wattage settings.
The PVD-aluminium Super Spreader + Spine (insert above the lamp) coupled with the DEfender titanium-coated reflector work perfectly in concert to spread the intense output from the DE lamps evenly and accurately to promote strong, vigorous and uniform plant development.
HEAT MANAGEMENT AND CANOPY PENETRATION
Proximity is everything when lighting plants indoors, otherwise incident light intensity is weak and diffuse, incapable of driving growth and bloom beyond the canopy. Adjust-A-Wings reflectors were designed for grow rooms, not greenhouses. They spread the light and radiant emissions uniformly while the Super Spreaders mitigate the risk of hot spots directly beneath the lamp, allowing a much closer hanging distance. The result is a much more powerful and intense light on your plants, without the heat issues.
The Hellions run cooler than any other comparable DE system and maintain cooler and more consistent plant temperatures for better health, and growth rates leading to more homogenous maturity, higher quality and bigger yields.
QUALITY AND RELIABILITY
Reflector, lamp and e-ballast are all custom designed and built to highest quality standards.
Performance variation is consistently
GUARANTEE
Lamp:
1 year/5000hr
Electronic ballast:
3 years
(Ballasts are also custom designed and built to match arc tubes—three years in development)
Reflector (Wings):
3 years
(Springy & super tuff H18 aluminium powder coated with 92% reflective titanium white)
Reflector (Spine + Super spreader):
3 years
(Super reflective TRV-3 PVD-aluminium 97% reflective, including Magnesium Fluoride layer instead of Silica Dioxide layer for much enhanced UV reflection)
FAQs
Is CMH better than HPS?
CMH produces a wide-spectrum light that is more effective with better penetration in the grow space, and produces much less heat than HPS with significant energy savings
What's better led or CMH?
LED bulbs last 50,000 hours compared to 20,000 for CMH. If you are planning for obsolescence and want the greatest yield ROI within 1-2-year time frame, choose CMH. And even if you keep your grow space past 5 years, don't worry, CMH's provide a greater gram per watt due to their higher PPF and canopy penetration.
What are CMH grow lights?
Ceramic Metal Halide (CMH) grow lights were first developed in the late '60s and are now interchangeably termed Light Emitting Ceramic (LEC) as both refer to the same technology. CMH grow lights have a wide and consistent spectrum that produce powerful light output that contains UV just like the sun.
Is CMH good for flowering?
A recent addition to the market is Ceramic Metal Halide (CMH) bulbs. They are more expensive per watt but they have a good spectrum (about 11% blue) and a higher efficiency than HPS in most cases. This makes them ideal for growing from seed to flower with the one bulb.
What is a 315W CMH equivalent to?
Some suppliers claim one 315W CMH is equivalent to one 1,000W HPS lamp in terms of yields. Others have reported that you need two 315W CMH lamps to produce the same yields as a 1,000W HPS.
How far should CMH lights be from plants?
Both the 315 LEC and 315 CMH grow lights should be kept at least 18? from the top of your plants, with some models needing to be kept as far as 3 feet away. ?CMH? grow lights have been around for many years, and used to come in typical HID sizes like 400W, 600W and 1000W.
Can you have too much light in a grow tent?
Cannabis plants will show a number of key signs when they're getting too much light. The most obvious indicator is leaf burning. This typically causes yellow leaves at the top of the plant directly under the grow lights. While the inside veins stay green, the leaves take on a yellow, burnt look.
How do you tell if grow light is too close?
The first signs look like thin outlines on the outside of the leaves, so if you catch this quickly you will have a chance to avoid further damage. If some of the leaves start curling up, it might also be a sign that the plant is too close to the light. Good ventilation usually also helps with this issue.
What lights do professional growers use?
Today, the most widely used lights for professional use are HIDs and fluorescents. Indoor flower and vegetable growers typically use high-pressure sodium (HPS/SON) and metal halide (MH) HID lights, but fluorescents and LEDs are replacing metal halides due to their efficiency and economy.
Why are my buds so small?
Stress is the number one cause of popcorn buds.
Any kind of stress, be it from poor watering, a lack or excess of nutrients, the environment, pests, plagues, or improper care, can affect a plant's ability to grow big, dense flowers.
Can a grow light be too strong?
To put it bluntly, yes, too much light can eventually kill your plant. The light intensity can produces increasingly severe damage to your plant to the point where it dies. It can also dry out the plant to the point where it no longer has the water it needs for growth and photosynthesis.
Can plants get too much grow light?
Too much light can kill a plant as burned leaves and stems can cause your plant to stop photosynthesizing. When that happens, your plant will no longer generate the energy it needs to survive, so can die. Too much light can also dry out your plant's soil too much that it essentially dies of thirst.
CMH 630w DE thread. – Rollitup
CMH 630w DE thread. #1 Don't think we have a dedicated thread for these lights so I thought I'd start one I'm running the Hi-Par and am very happy so far. Anyone else running a 630W DE CMH? Last edited: May 23, 2019 #2 How do the yields compare to HPS? I've been asked to put together a LED system to run next to a 630 DE CMH in an 8'x4′ tent to compare the results (hopefully it will go ahead soon). I've no doubt LED will yield better, but it will be interesting to compare the bud quality with the extra UV from the CMH #3 How do the yields compare to HPS? I've been asked to put together a LED system to run next to a 630 DE CMH in an 8'x4′ tent to compare the results (hopefully it will go ahead soon). I've no doubt LED will yield better, but it will be interesting to compare the bud quality with the extra UV from the CMH Ive only ever run a 600w HPS in flower and the 630w DE CMH does yield better with much more resin and denser flower with cooler temps. If doing the test make sure you run a proper CMH square wave ballast. There are some bastard bulbs being produced that can be retro fitted to high freq ballasts but these of cause don't take advantage of a proper CMH ballast and [email protected] runs CMH along with HLG QB's (same tent). He may have some insight in comparing LED and CMH. Last edited: May 23, 2019 #4 I'm not sure the specs, as it's a friend of a friend who wants to compare LED with HIDs. I know I can get much more even coverage with LED at the same wattage, but I'm also a big fan of having a bit of UV in there for the terps and THC. I think LED + CMH can be a good combo. I used to be very skeptical of LED beating HIDs, but then I started growing with them myself and it only took one harvest to make me a believer. #5 How do the yields compare to HPS? I tried a 600 watt DE CMH against 1kW DE HPS and the CMH lagged behind. Switched to 1kW DE CMH and thats the ticket. #6 The only problem with DEs is you can't hang them vertically. Vertical HIDs automatically give you an increase in usable light by removing reflector losses. Plus you don't get the same heat build-up as you do under a hood. If I went back to HIDs, it would probably be SE CMH hung vertically. #7 They make a "gizmo" , lol, to hang DE bulbs vertically……very thick glass though, definitely robbing at least 10%, maybe it's removable? Idk, out of the loop Around equal wattage, cmh bud quality went up vs hps, yield slightly lower IME with Philips allstart. #8 Yeah if you are gonna run vertical bulbs, as do I for side lighting, then single end is still the best. If you do run a reflector with SE bulbs, it is best if you can screw the bulb in so that the internal framework is facing the reflector. The bulbs internal framework blocks a little bit of light and if oriented towards the reflector you will get the best side of the bulb facing the plants. With vertical bulbs it is important to spec bulbs that will run in a vertical or universal position. Otherwise the bulb won't last long at all. If one wanted to use a DE bulb for side lighting with a reflector then you can just orient the bulb horizontally and put the reflector opposite the plant on the side instead of above the bulb. I love DE bulbs for overhead use but for side lighting nothing beats a SE bulb. #9 The only problem with DEs is you can't hang them vertically. Vertical…
Side by side grow. 630 CMH vs 1000HPS
Side by side grow. 630 CMH vs 1000HPS #1 Hey all.. I wanted to share this side by side grow to more of the audience in this forum. My thread in the grow diaries " 8k coco grow show" is rather huge, and I think this will tend to get lost and not seen by many on here. I figured this section would be a good one to post this in. Started this room out with 8 1000w hps lamps.. I've been using HPS for many years and I've been reading the rave reviews on the CMH 630. I am looking for a better quality product in my flowers. So I grabbed 4 of these and am giving it a shot. I am wanting to move away from air-cooled lights and HPS. And have more trics and aroma from my buds.. I hear these are doing just that. So here we are. If I don't get the same yield as the hps I will simply go back to all hps. If I have just a slightly difference in a little bit lower of a yield with better quality, I will end up getting 4 more CMH then. I do the coco tree's method. Coco DTW with multiple feeds. I'm currently feeding every 4 hours at the moment, and I will end up feeding every 2 hours once they take full root and demand more. I use mills nutrients with some tweaks, and absolutely love it. This is my 4th grow in this new room. This room is the perfect climate. 48k btu of AC going in here. My temps don't get over 80. Co2 burner set to 1000ppm. Humidity is at 60 at all times. My rez is located outside this room in a shed I built that holds my RO water to flil up my Reservoir. I have a water chiller set to 64 on my water at all times. I never go over 900ppm during the whole grow. So far the HPS side is producing more squaty plants that are wide. The leaves seem to be bigger as well. The CMH side is thick and the stems and stalks are fat and tough as well. I'm actually very surprised how well the 630s are penetrating. I was thinking I was going to have more larfy branches on the CMH side, but that is not the case.. The strain is pineapple chunk. And she is my biggest yielder in my collection at the moment. This plant is tough, big, and badass. And great smoke. I will be giving weekly updates and pictures and my feedback all the way to harvest, and also the weight report after trim is done..I'm not on here that much, so I will try and answer as much and fast as I can. Feel free to ask anything you like guys. I like to hear opinions and debates. You guys can go to my gallery and see my grows in this room and also go check my thread " 8k coco grow show " in grow diaries. This is 13 days veg under the cmh and hps from clones that were under floros for 2 weeks.. 48 plants. 2 gal smart pots. Every plant is rocking house and doing very well. So far this grow has been spot on.. let's hope it stays that way.. lol Tomorrow I will start defoliating and stripping branches and stretch my first course of Nets. I'm thinking 7 more days and I will flip 12/12. And obviously you can tell which side is which by the light.. Oh almost forgot. I'm using the Phillips agro full spectrum lamps on the 315s, and hortilux 1000 lamps with raptor hoods on the hps. #3 Better shot of the lights #4 This will be interesting Ive been thinking about building another room and was thinking about going with all CMH. I recently added one 315 between 2 600's at the moment, I think it made a noticeable difference the last crop, especially tastewise. What kind of yield per light would you usually expect from this strain under the HPS?…
Double-Ended 630 CMH vs 2x 315 CMH lights – 420 Magazine
Double-Ended 630 CMH vs 2x 315 CMH lights I was wondering if anyone has any experience with the de 630? A good friend of mine switched from 1000w hps to 2 of the 315 CMH lights per 4×4 trellis. His yield went from around 15-16 oz per trellis, to 22-24 oz per trellis. My thinking says the 630 should have better penetration, but the 315's may be a better choice for the coverage area. TorturedSoul Member of the Month: May 2009, Oct 2010, Sept 2017 My thinking says the 630 should have better penetration, but the 315's may be a better choice for the coverage area. No experience with them, but I'm guessing that you have the right of it – in which case things such as your strain choice and growing style would become significant factors. For example, if you are trying to produce a dense, thick canopy, the higher-wattage light would seem to have an advantage. On the other hand, if you have a thinner, less dense (or sparser) canopy, perhaps one that is a little more spread out, occupies an odd-shaped footprint, or has plants of varying heights… then the two smaller lights would likely have some advantages over the larger single one. I have seen a few videos using the de630 and the plants looked great and the canopy is dense, but that isnt all light I've got 2x 6'x4′ cupboards, I've just put 1 x HiPar 630W CMH in one on a light mover and 2 x HiPar 315's in the other, it will be interesting to see the results for comparison. Initially I tried 1 x 315 on a light mover in one cupboard and I was so impressed i bought a 630 to throw in there as well and turned the mover off. I had a 40% increase in yield over LED's in that cupboard over 1000W LED. 40% increase in yield and shorter flower time (6 instead of 8 weeks) The other cupboard I initially had 3 x Epistar 160's, the first yield was good and the following where not so good. Some of the Led's had failed in all 3 lights I had, even under warranty as per there website warranty, Mars did not want honor their warranty ( wanted me to Pay for parts and labour), but that's another story.. I replaced those Epistars with a couple of 600W HPS I had lying around and started flowering under those, it was all good until a power spike and outage caused the Ballasts to blow. So I went and bought another 315w so that the other cupboard now has 2 x 315's which are stationary. It will be interesting to see how they perform but so far I'm pretty impressed. Penetration is far superior than LED. – Juz420 I agree Juz. I just ordered a Solistech 600w Mh/hps ballast, bulbs and 8″ Max44 cooled hood direct from one of their approved vendors on ebay for under $160. Idk about CMH, but it would have been another $100 for their cmh315. I will def…
Cmh yields? – The #1 Marijuana Community Online
Cmh yields? Bigolenugs19 Registered User Joined: Jan 28, 2013 Messages: 642 Likes Received: 274 To preface all of this, I run QBs exclusively right now. But Ive found myself in many conversations about qbs vs cmh. I know they are pretty similar in yields and quality but does anyone have a solid gpw value for cmh lighting? What do people average with cmh and whats the highest gpw youve ever seen that seemed believable. Just trying to get more knowledge so I can speak on this stuff more confidantly. Bonus question: What exactly is an LEC light and whats the difference between it and regular cmh bulbs?Conrad's QB Corner [Perpetual Grow] Like x 1 Bigolenugs19 Registered User Joined: Jan 28, 2013 Messages: 642 Likes Received: 274 This man is exactly who I am looking for! Lol. I would appreciate it if anyone else responds too as I know @PAPAPUFF uses hortilux bulbs and I am interested in some numbers from multiple cmh bulbs as I think the bulb choice is 100% the main factor, not the fixture itself. But hey, I might be wrong and thats why I am asking Conrad's QB Corner [Perpetual Grow] Hes your man for sure, i think hes possibly sleeping right now so may have to wait for him to awake. Do you have to put a double @ to tag someone yes? Sent from my SM-G950F using Grasscity Forum mobile app Bigolenugs19 Registered User Joined: Jan 28, 2013 Messages: 642 Likes Received: 274 I have never learned to tag anyone properly but it seems you did it right and I didnt. Thats ok, he will get the message. I have no issue waiting, I know hes got the knowledge I needConrad's QB Corner [Perpetual Grow] Sc00byD00bie Nothing but a Hound Dog Old School Joined: Jan 19, 2015 Messages: 10,975 Likes Received: 22,665 I cant say personally but I remember before LED became good and everyone was still using CMH, people would be boasting about 1GW yeilds. With QB you people are getting anywhere between 1.5-2 G/W Agree x 1 Mr.Grits Well-Known Member Joined: Feb 16, 2017 Messages: 1,896 Likes Received: 2,238 So cmh lights are no longer top of the line now? Joined: Dec 29, 2018 Messages: 519 Likes Received: 226 never grown with anything other than leds, but i feel the most important factor of led's is that you can have lights directly over every square inch, direct from a diode. Like x 1 Mr.Grits Well-Known Member Joined: Feb 16, 2017 Messages: 1,896 Likes Received: 2,238 I switched to cmh from led, bigger yields and better quality, in my opinion, I was using a shit ton of 300 watters Informative x 1 Bigolenugs19 Registered User Joined: Jan 28, 2013 Messages: 642 Likes Received: 274 Mr.Grits Well-Known Member Joined: Feb 16, 2017 Messages: 1,896 Likes Received: 2,238 Mr.Grits Well-Known Member Joined: Feb 16, 2017 Messages: 1,896 Likes Received: 2,238 They are in stages, from 1-4 weeks in flower , all are regs Bigolenugs19 Registered User Joined: Jan 28, 2013 Messages: 642 Likes Received: 274 Nice, little perpetual grow goin on? Im just starting a perpetual grow myself, but I started off with 4 plants together… not sure that was a great idea…. expansion might be needed!Conrad's QB Corner [Perpetual Grow] Like x 1 Mr.Grits Well-Known Member Joined: Feb 16, 2017 Messages: 1,896 Likes Received: 2,238 I feel your pain I have 4 in…
HTG Supply 630w CMH Grow Light
CMH Grow Lights – 630w CMH Grow Light From HTG Supply The HTG Supply 630w CMH fixture features a dual ceramic bulb configuration for twice the growing power of standard CMH and LEC lighting systems. Higher output makes this CMH system a solid option for growers who are looking to take advantage of ceramic metal halide benefits but require more power than a 315w CMH?grow light?offers in order to cover larger grow room areas or further boost quantity and quality of yields. The plug-and-play design of the HTG 630w CMH features the HTG square-wave digital CMH ballast and integrated reflector with opposing PGZ18 sockets for compatibility with popular CMH bulbs such as the Philips?MasterColor. Built-in brackets and hardware provide options for mounting or hanging the 630w CMH fixture while the 3-position adjustable reflector allows light spread to be adjusted for additional flexibility, even if fixed-position mounting is required. These versatile features combined with extra yield-boosting CMH power make the HTG Supply 630w CMH fixture is equally as well suited for use in a grow tent as it is in?large scale commercial growing operation. Looking for something else? Browse our full selection of grow light systems for great deals on all of the latest horticultural?technology including cutting edge LED grow lights and more! Your Garden's Success is our #1 Priority HTG Supply is committed to providing you with the very best products, pricing and service in the industry. We will ship your order fast and discreetly packaged to protect your privacy. Buy with confidence knowing your HTG Supply purchase includes simple returns as well as lifetime product support. Call our team of real growing experts with your purchasing or product use questions, and we will be here to help!See it for less somewhere else? Give us a call and we'll beat any online competitor's price!Customer Service:  1-866-710-GROW (4769) | [email protected] | Hours: Mon-Fri 9:00 a.m. to 5:00 p.m. Loading… Description Additional information Reviews (0) HTG 630w CMH Fixture Overview The state of the art HTG Supply 630w CMH grow light delivers twice the output of standard CMH systems for supercharged growth and yields. Dual 315w CMH bulbs, advanced square-wave ballast circuitry, and an adjustable top-quality Vega aluminum reflector with 95%+ reflectivity combine to create one of the most powerful and versatile ceramic grow lights on the market. Higher output opens up the option to expand or further optimize coverage while still providing nearly a 40% reduction in power consumption vs. 1000w HPS and MH grow lights. With all of the benefits of state of the art horticultural CMH lighting, more power, and improved adaptability, the HTG 630w CMH provides the serious growing power needed to produce lush, compact growth as well as amazing yield quantity and quality. Key Performance Factors Improved Versatility — Designed to adapt to any indoor growing application, residential or commercial, the HTG 630w CMH fixture can be hung or surface mounted above the canopy and comes ready to install out of the box. Three-angle reflector positioning also allows light spread adjustment for additional flexibility, even with a fixed-mount installation. Higher Component Quality — Constructed using only professional-grade components, from precision circuitry to premium reflector material, HTG 630w CMH grow…
Increase your yield with the Hellion DE Lighting System by …
Increase your yield with the Hellion DE Lighting System by Adjust-A-Wings UNLOCK TOP SHELF QUALITY Hellion Lighting Kits by Adjust-A-Wings deliver more PAR output than any other 600 – 750W DE-HPS, 630W DE-CMH or 315W SE-CMH. However, it's Adjust-A-Wings' unique capability of getting "up close and personal" that truly sets it apart from the pack, delivering unparalleled intensity and canopy penetration without causing heat stress. Combining our DE-HPS and SE-CMH / DE-CMH systems in the same lighting plan, growers can create "deep spectral mixing" — combing the complementary spectrums of DE-HPS and CMH at high radiant intensity. This stimulates photosynthesis, production and crop quality on a whole new level! Thanks to the double-parabolic reflector shape and patented Super Spreader (heat diffuser) Hellion lighting systems are able to be safely positioned much closer to the canopy, giving much deeper penetration and driving production throughout the plant. Other small "deep-dish" greenhouse-style reflectors require 90cm or more which exponentially decreases both incident and angular intensity. The Hellion is ideal for quality + production focused growers cultivating under standard-height ceilings. Also, growers with high ceilings my benefit from growing in a multi-tier (multi-layer) arrangement which is not possible with other DE HID systems. Watch the video. POWER and PERFORMANCE  All the components (reflector, lamp, e-ballast and Super Spreader) have been designed from the ground up to work as a complete, unified lighting system. The result is an extremely efficient grow light with extended lamp life, lower power consumption, higher output and high spectral integrity across all key wattage settings. The PVD-aluminium Super Spreader + Spine (insert above the lamp) coupled with the DEfender titanium-coated reflector work perfectly in concert to spread the intense output from the DE lamps evenly and accurately to promote strong, vigorous and uniform plant development. HEAT MANAGEMENT AND CANOPY PENETRATION Proximity is everything when lighting plants indoors, otherwise incident light intensity is weak and diffuse, incapable of driving growth and bloom beyond the canopy. Adjust-A-Wings reflectors were designed for grow rooms, not greenhouses. They spread the light and radiant emissions uniformly while the Super Spreaders mitigate the risk of hot spots directly beneath the lamp, allowing a much closer hanging distance. The result is a much more powerful and intense light on your plants, without the heat issues. The Hellions run cooler than any other comparable DE system and maintain cooler and more consistent plant temperatures for better health, and growth rates leading to more homogenous maturity, higher quality and bigger yields. QUALITY AND RELIABILITY Reflector, lamp and e-ballast are all custom designed and built to highest quality standards. Performance variation is consistently < 1%. All ballasts and lamps are factory run-in so no "100-hour burn in time" is required. PAR maintenance (working life) of lamps is extended thanks to custom-made Japanese arc tube and cooler running temperatures (18 – 24 months). Adjust-A-Wings reflectors last three to five times longer than small, deep-dish style reflectors. GUARANTEE Lamp: 1 year/5000hr Electronic ballast: 3 years (Ballasts are also custom designed and built to match arc tubes—three years in development) Reflector (Wings): 3 years (Springy & super tuff H18 aluminium powder coated with 92% reflective titanium white) Reflector (Spine + Super spreader): 3 years (Super reflective TRV-3 PVD-aluminium 97% reflective, including Magnesium Fluoride layer instead of Silica Dioxide layer for much enhanced UV reflection)
630w cmh vs 1000w de – Lighting – UK420
630w cmh vs 1000w de @@Ted Sheckler I think like with HPS lamps it'll reduce the life span of the lamp, and also like with HPS it alters the spectrum a little bit – but actually with CMH lamps the higher you boost them, the more "red" the lamps go so it actually produces a lot of throw-away photons but not so much of the rest of the spectrum, but still a lot more than HPS. Dimlux offers dimmable ballasts, as do Omega and Phantom in the US – I think even the original phillips advanced ballast had a 210/315w option (not checked inside a MK1 maxi to see if it has it but im lead to believe it is phillips advanced on the inside so should be dimmable). User pref imo, I don't dim mine no need really. Edited June 18, 2016 by Golden Syrup